White Silver Hammer Tone Effect Aluminum Paste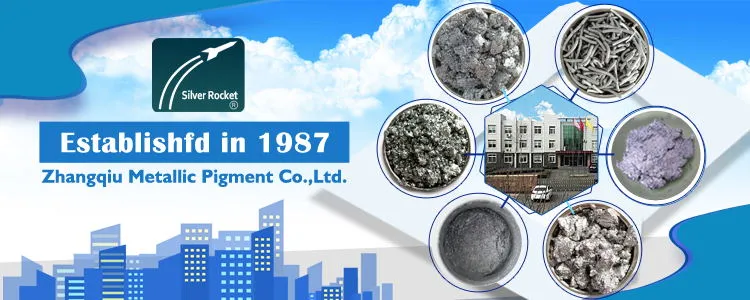 Company Information
Zhangqiu Metallic Pigment Co., Ltd. was founded by Mr. Liu Enwei in 1987. "Silver Rocket" brand aluminium pigment was exported to more than 40 countries.
We own 6 factories in China including 4 for aluminum pigment and 1 for aluminum powder. In 2019, we built a new bronze powder factory.
Now, "Silver Rocket" is the sole manufacturer in China who can produce silver and gold metallic pigment. We are moving to the top of the industry.
Our advantages.
*Silver Rocket is the manufacturer with more than 30 years production experience.
*We have 6 manufacturing plants covering total area of 170,000 square meters.
*Aluminum paste and powder production capacity is 20000 tons/Y, bronze powder is 1500 tons/Y.
*Many muti-national companies have cooperation with us. Quality is guaranteed.
*Own aluminum powder production facilities, produce raw material by ourselves.
*Over 50 professional R&D technicians to research new product and provide technical service.
*REACH full registration, ISO9001:2008, ISO14001:2004 and *OHSAS18001:2007 certified.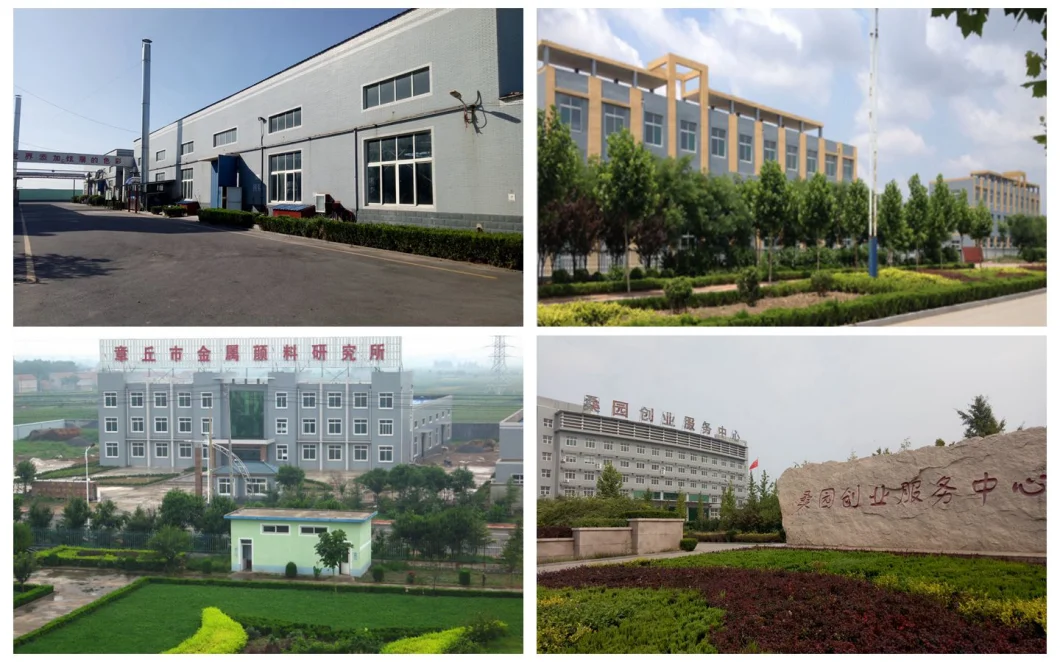 Products Characteristics
STANDARD NON-LEAFING is produced specially for protective coatings. The technology adopted allows our grades to impart good brightness and whiteness while maintaining a well balanced cost structure.
Performance Parameter
Grades

Non Volatile




Content (±2%)

Average Particle Size(um)(D50)

Screen Analysis




(325mesh<%)

Applications

ZQ-5150

65

15

1.0

General Industrial, Hammer tone effect

ZQ-5151

63

15

1.0

General Industrial, Hammer tone effect

ZQ-5152

63

16

1.0

General Industrial, toy, Hammer tone effect

ZQ-5

166

6

5

16

1.0

General Industrial, Hammer tone effect
Solvent
HA: High Boiling Point Aromatic Hydrocarbon Solvent
Note: We can tailor make the non-volatile content and solvent according to customer needs.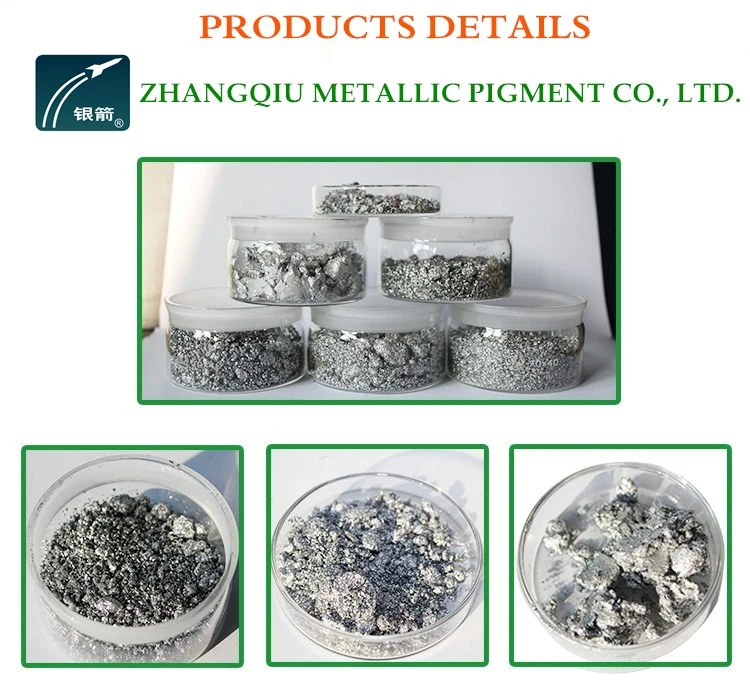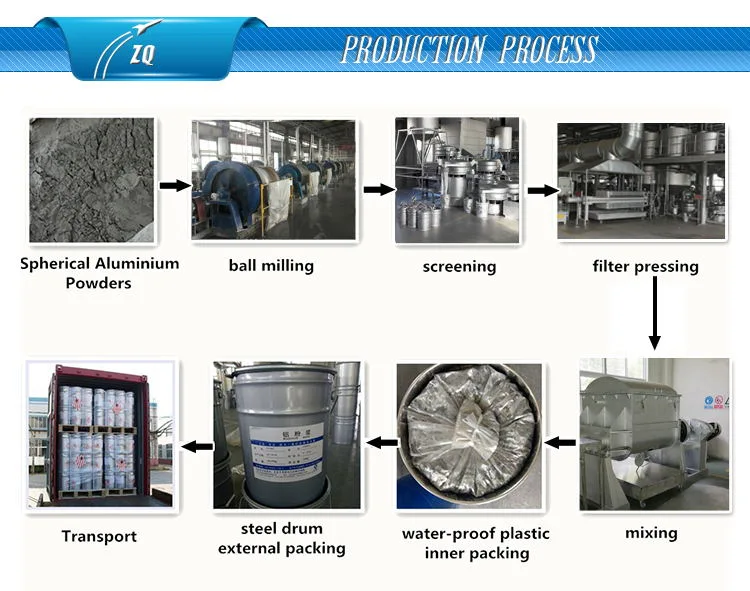 Package
Product Name

Package

Package size




(mm)

Net Weight




(Kgs)

Gross Weight




(Kgs)

Max Net Weight/Pallet




(Kgs)

Max Net Weight/20ft




(Kgs)

ZQ Series Aluminum Paste

Steel Drum

D285*H360

25

26.65

1050

17500

ZK Series Al Paste&Water-based Al Paste

Steel Drum

D285*H360

20

21.65

840

14000




Spherical Aluminum Powder

Steel Drum

D285*H360

25

26.65

1050

17500

Steel Drum

D560*H890

200

218.5

800

16000

Flake Aluminum Powder

Steel Drum

D285*H360

8

9.65

336

5600

Aluminum Pellets for ink

Steel Drum

D285*H360

7

8.65

294

4900

Aluminum Pellets for Masterbatch

Steel Drum

D285*H360

10

11.65

420

7000




Bronze Powder




Steel Drum

D330*H400

25

28

675

9000

Aluminum Paste for AAC




Woven Bags

/

25

25.1

/

23000

VMP&Rainbow Pigment

Steel Bottle

D85*H240

1

1.165

/

/
Storage
Keep lids tightly sealed.
Store in cool and dry place in tightly closed lid.
Keep away from heat and direct sunlight.
Prevent formation of dust.
Ensure good ventilation.
After long time storage, the paste becomes drier than before. Please recheck the products before use to avoid any loss.
Transportation
Handle gently, and no acute collision. Transport in strict accordance with local transport regulations.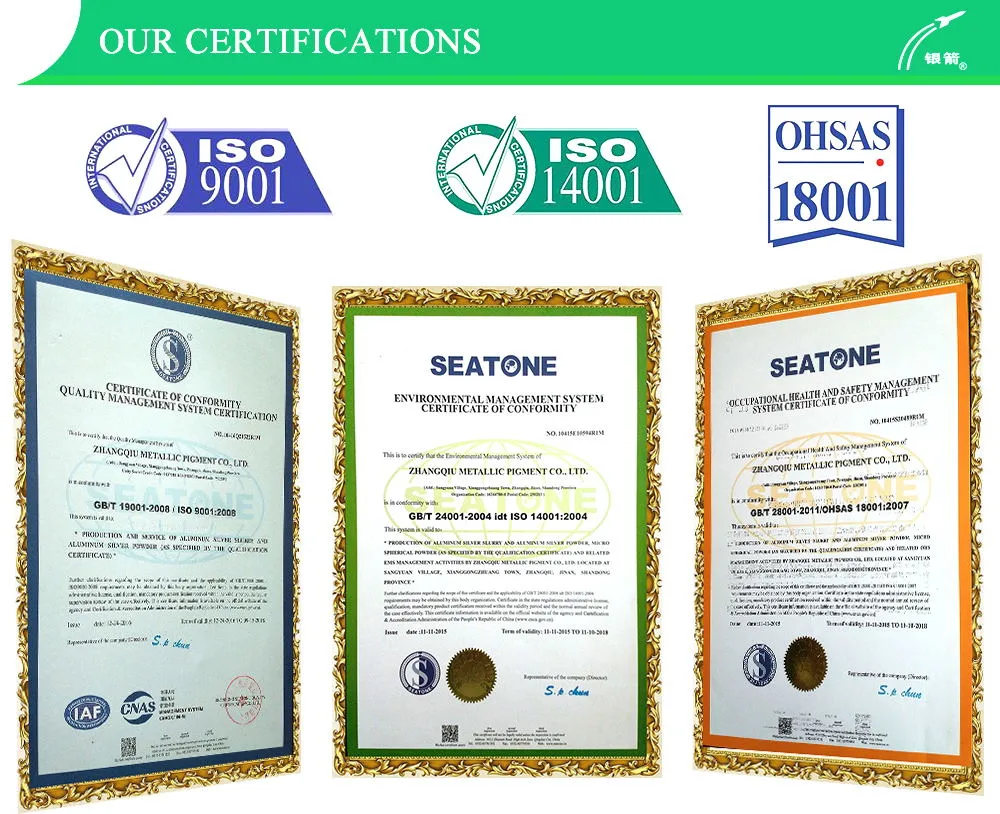 Exihibition
We attend Chinacoat every year as well as Middle East Coating Show, European Coating Show, Asia-Pacific Coating Show, Brazil Coating Show, etc regularly.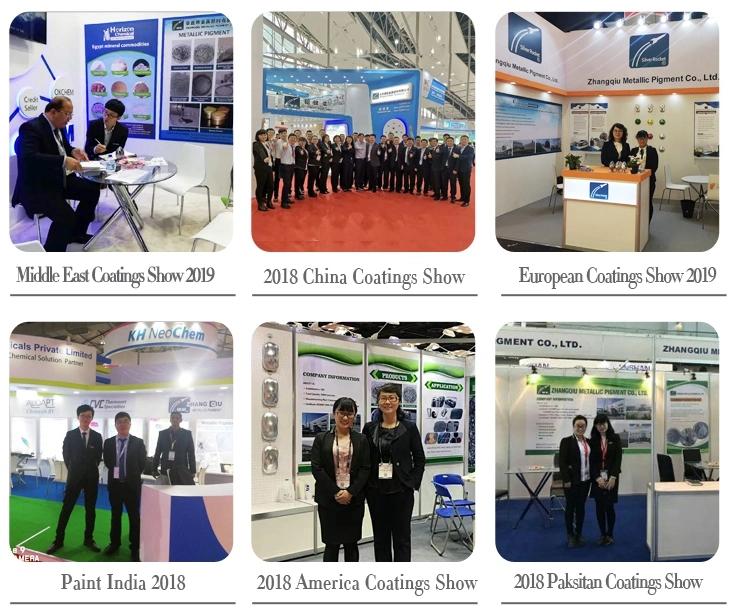 FAQ
1.Why choose us?
Zhangqiu Metallic pigment CO.,LTD is the largest specialized manufacturer of metallic pigments in
China.We have our own raw material manufacture workshop, which completely ensures the quality and lead time.
2.How long can be stored?
Please strictly follow our instructions. Normally our products is 1 year quality guarantee.
3.Could you provide OEM products for ourselves?
We have our own D&R team and technicians, so that we could provide personalized products and
service according to different customers' requirements.
4.How do you control the quality?
We have passes the ISO9001 quality management system Certificate. We strictly carry out accordingto the quality system in every aspect of the production process.
5.Can you provide products that is environmental friendly?
We have passed ISO14000 Environmental management system certificate of conformity. Our
Aluminum is environmental friendly, such as waterborne aluminum paste, which adopts the
advanced technics, which also comply with environmental detection of indicators.