PCB magazine loader---Auto solder paste printer---pcb conveyor---pick and place machine---reflow oven---PCB magazine Unloader
Specifications:
PCB Magazine loader

Dimensions

850*765*1250mm( customized)

Magazine size

355*320*563mm( customized)

PCB size

50*50-330*250mm( customized)

Magazine quanlity

1

Air pressure

4-6bar,10L/Min max

Weight

Approx.130kgs

Solder paste printer

Max size(L*W)

400*340mm

Thickness

0.4-6mm

Conveyor speed

Max.1500mm/s

Hardware

LCD monitor,mouse&Key board

Operating system(OS)

Windows 7or higher

I/O Interface

Smema standard

PCB Conveyor

Dimensions

Length*640*910mm

PCB Width

50-350(mm)

PCB Direction

L-R or R-L

Speed

0-1000(mm)min

Communication Plug

Smema signal

Platform Material

ESD Rubber Mat

Pick and place machine

Maximum PCB area

600*400mm

Mounting head

8 heads

Max placement speed

40000cph

Movement precison

+-0.05mm

Minimum component

0402-14mm

Operating system

Windows7 higher

Reflow oven

Heating zones

Top8/bottom8 (customized)

Max width of PCB

400mm(customized)

width of conveyor

50-400mm

Conveyor speed

0-2000mm/min

heating time

Approx.20min

Dimensions(mm)

5400*1730*1555

PCB Magazine Unloader

Dimensions

850*765*1250mm

Magazine size

355*320*576

PCB size

50*50-330*250mm

Magazine quantity

1

Air pressure

4-6bar, 10L/min max

Weight

Approx.130kgs
More details of the product ,please contact with US!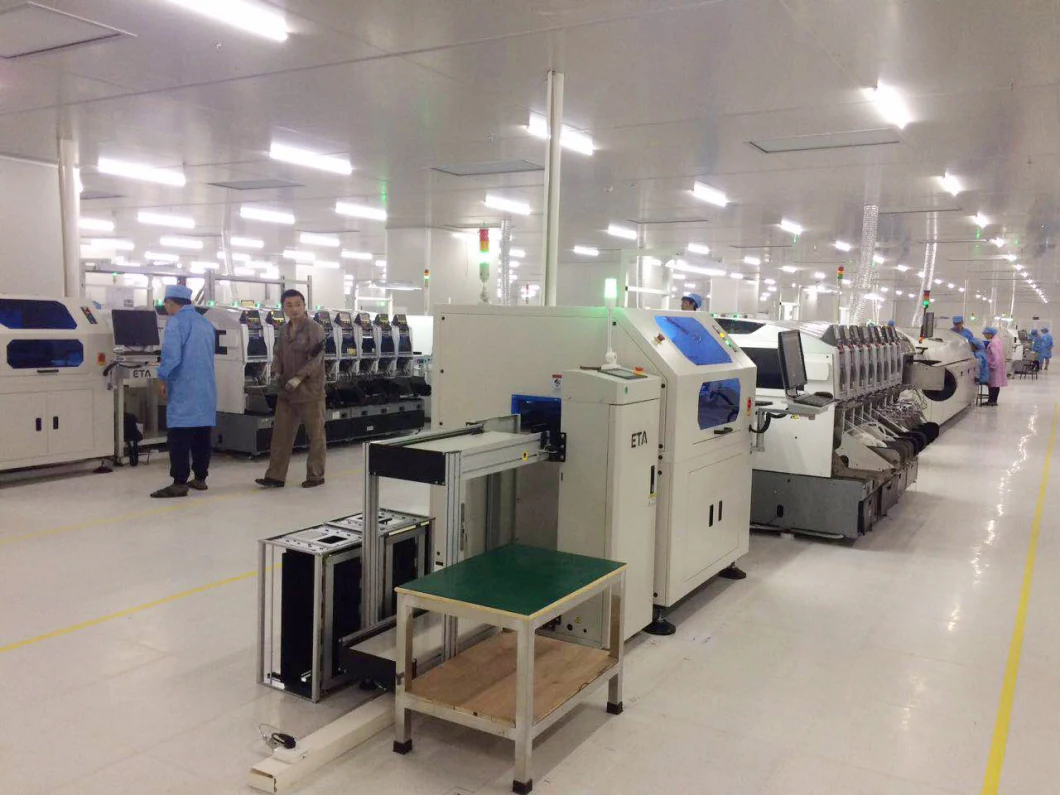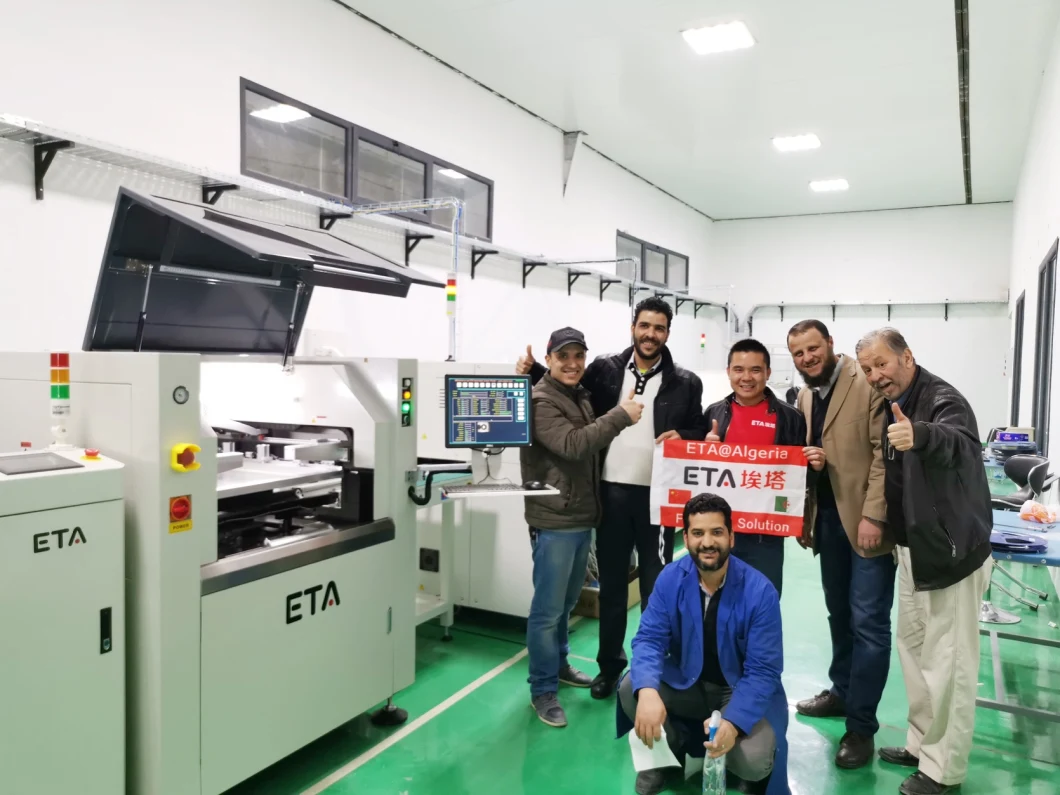 Any need about SMT/DIP Machines, please call us:
Reflow oven with 6 heating zones A600
Compact Reflow oven with 8 heating zones A800
Ecnormical reflow oven with 8 heating zones E8
ETA LED pick and place machine M6
FULL AUTO SCREEN PRINTER MACHINE
LED auto stencil printer ETA1200
Auto screen printing machine with working area 400*340mm
SEMI-AUTO STENCIL PRINTER MACHINE
Semi-auto stencil printer machine working area 1200*300mm
Semi-auto stencil printing machine size 600*330mm
Semi-auto screen printer size 400*330mm
BGA REWORK STATION
Hot sale BGA rework station 6200
SAMSUNG/HANWHA CHIP SHOOTER
Samsung flexible mounter SM-482
Advanced High Speed Flexible Mounter SM-481
Samsung Flexible High Speed Chip Shooter SM-471
High speed universal chip shooter DECAN Series (S2, F2, L2)
High Speed Modular Mounter EXCEN PRO
Highest speed placement machine EXCEN FLEX
SLM100 Series LED mounter---Amazing LED production System
Introduction of SMT JUKI Pick and Place Machine RS-1
Class leading speed, up to 42,000 cph

0201*~74mm x 74mm / 50mm x 150mm

Wide component range

Optimum line balance and highest throughput

New head design automatically adjusts the centering height based on components placed.

JUKI's laser centering technology is fast, accurate and reliable for a wide range of parts.
JUKI multifunctional pick and place machine RS-1
JUKI high speed Speed Placer KE-3010
JUKI high speed flexible chip mounter KE-3020
JUKI LED chip mounter JX-350LED
FX-3 Speed Placer
RX-6 Flex Placer
RX-7 Ultra High-speed Placer
JX-100LED Compact Placer

JX-300LED Compact Placer
JM-10 Multitask Platform
JM-20 Multitask Platform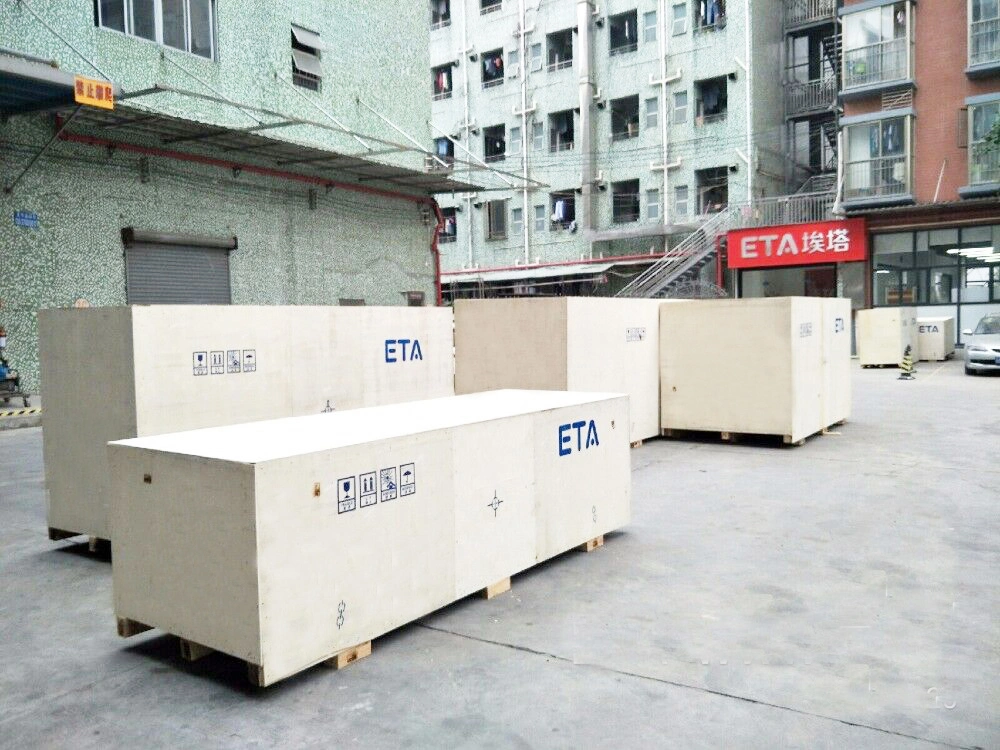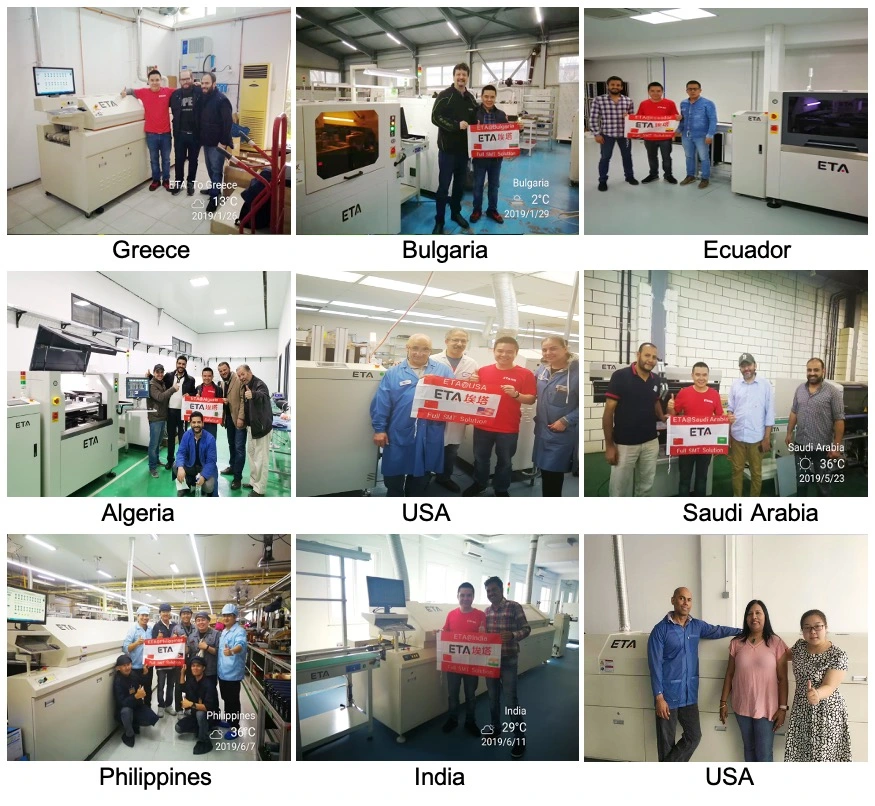 Intercontinental supply :

PCB loader,PCB conveyor,smt machine,reflow oven,PCB unloader,coating line,PCB production line,
LED production line,conformal coating line,whole board conformal coating line,PCB coating line,
smt line,pick and place machine,SMT dip line,solder paste priner,simple PCB coating line,PCB assembly line,
double side smt line,smt assembly line,smt production line,pcba coating line,smt whole line solution,
electronics production line,single rail smt line, dual rails smt line,LED lamp production line,smt pcb production line,
smt whole line,smt coating line automatic PCB coating line,selective coating line,semi-auto smt line,double side pcb coating line...
Our goal is to provide customers with the best service possible and to produce excellent quality products that will meet or exceed your expectations.
Successful Experience:
InterContinental customer in 35 countries around the world
1. We have been helping customers to build a lot of new factories around the world.
2. Training more than 500 experts and technician for customers.
3. Became the most reliable Chinese partner for you.
For SMT factory setup,we can do for you:
1. We provide fulL SMT solution for you
2. We provide core technology with our equipments
3. We provide the most professional tech service
4. We have wealthy experience on SMT factory setup
5. We can solve any question about SMT